You know those cool people that only have first names? Beyonce, Shakira, Eminem, Madonna, Sting, Zendaya, Fabio.
All of those?
Cool people.
Well, except for Eminem, but you know.
Or Fabio...
Or Zendaya...
SO ONCE UPON A TIME THERE WAS ANOTHER RENAISSANCIAN ARTIST. NEVER SAW THAT COMIN, DID YA?
Ok.
But.
His name was....
~Raphael.~
So, to our surprise,
~Raphael~
was not born in Florence!
Oooh.
A mysterious hipster artist with one name.
The name....
~Raphael.~
BUT.
He was born in Urbino.
He's in Ur bino, artsin ur Rennai$$anz.
BUT.
Then his papa died. So he went to Florence.
YAYY.
So a lot of people confused his work with that of his master's. He was that good.
SO HE WENT TO LEARN FROM THE MASTER OF THE MASTERS.
Michelangelo and Leonardo.
From Leo he learned gracefulness from Leonardo. And from Michelangelo, he learned.... Anatomy.
...
..
.
BUT.
He gained a nickname.
~The Divine Raphael.~
Unlike Mich and Leo, he finished his work in a decent amount of time.
In fact, he's really famous.
You just don't know it.
So he painted a big picture. A really big picture. Two little angelbabies are on the bottom of the really big picture. AND THE LITTLE ANGELBABIES ARE
EVERYWHERE.
Cards. Pillows. Blankets. Mugs. The Internet. Shirts. ALL OVER.
These little angelbabies.
You've seen them before.
These little angelbabies.
BUT HE HAS MORE THAN LITTLE ANGELBABIES.
He has a picture of Mary.
And it was painted beautifully.
BUT THERE WAS A SCANDAL.
Apparently,
~Raphael~
had lots of girfrands.
Lots of girlfrands.
He claimed they were all his inspiration.
UNFORTUNALY, HIS LOVE OF WOMEN WOULD BE...
HIS DOWNFALL.
(bumbumbum)
But that's for later.
Eventually,
~Raphael's~
genius was recognized by Mr. P-to-da-ope Julius. The second.
And he was the Mr. P-to-da-ope-to-da-jerkface. The one that made Mich paint the Sistine Chapel.
Yeah.
That
guy.
So he needed some of the best Artists and stuff for some project he was gettin' on.
And
~Raphael~
was one of them.
He was hired to paint Mr. P-to-da-ope's private chambers.
*giggle*
*gigglegiggle*
So he went to Rome to paint up that place. Which included his Library, the room where he signed shtuuuuf, and I guess also his bedroom.
So in his Library is where
~Raphael~
got really really famous.
On one wall, there was a shelf with books on Philosophy. On ther other was a shelf with Theology. So on wall Theology,
~Raphael~
painted a scene called "The Dispute of the Sacrament." It was pretty much the Bible shoved into a picture. It also had a bunch of people like Rola, Jerome, Augustine, Aquinias, etc. etc. fighting and arguing while Jesus is up here with his jazz hands.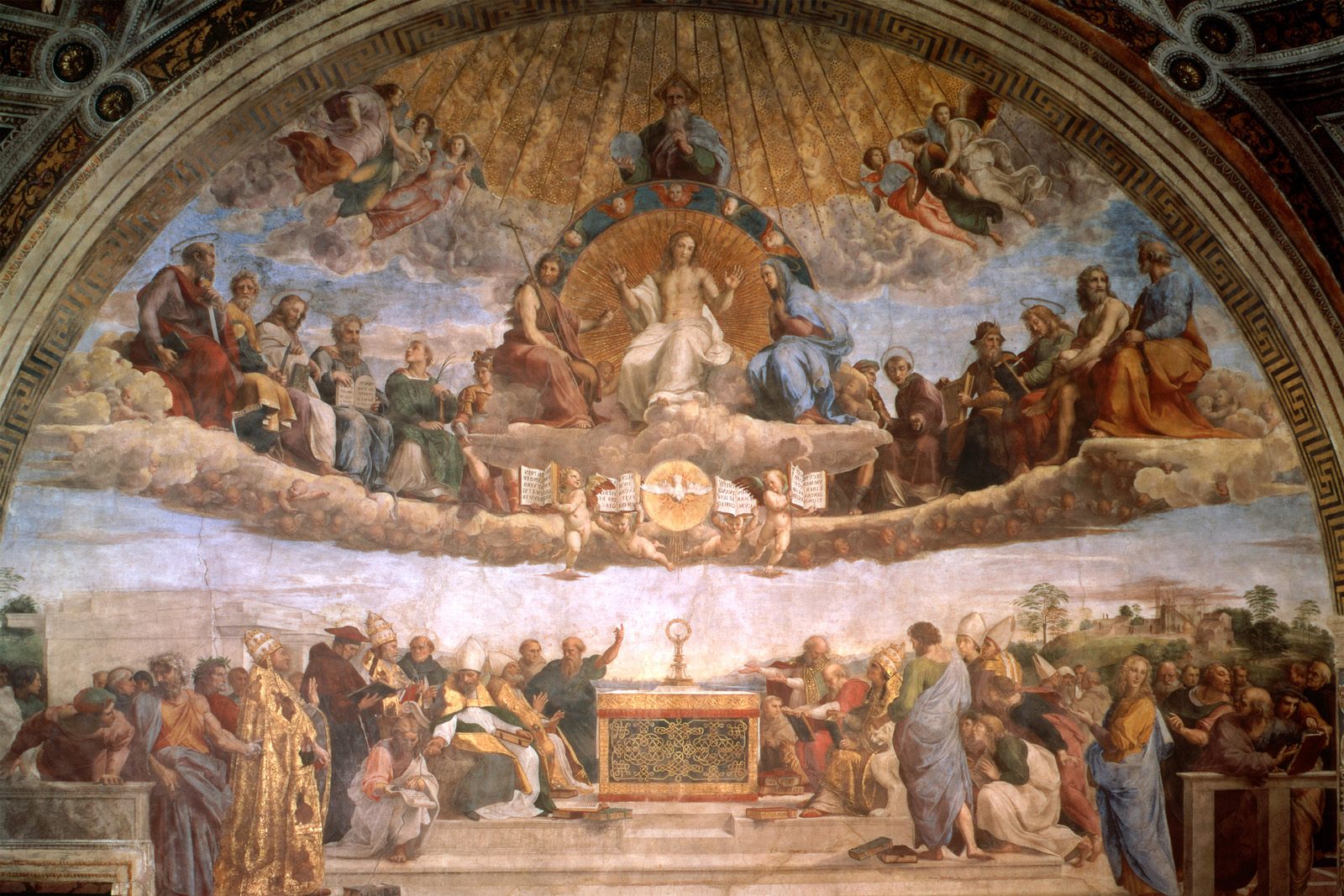 You see?
Jazz hands.
And there are move angelbabies up on the ceiling.
BUT.
It has the background and stuff that Leo had, and all the buzznuzz and weird stuff Mich had.
SO THE OTHER WALL PROVED TO BE HIS BEST.
The Philosophy wall.
The wall of Philosophy.
THE PHILOWALL.
THE WALLSOPHY.
THE PHILOWALLSOPHY.
And it was called "School of Athens"
SO Y?
Before
~Raphael~
moved to Rome from Florence, he went to a little church this one time called the Sistine Chapel. Now the ceiling was not finished, but thurr was some preachin goin onz anywayz. So the preacher preachin preached about Mr. P-to-da-ope Julius about him bringing some good learnin to Rome.
And although Julius was a Pope, he was a lot like Cosimo. An' he likah tha Greeka an' the Roma an' alla tha shtuff.
So that's why he put "School of Athens". It has a bunch of cool peeps liek Plato, Aristotle, Some of Socrate's students, Socrates, Pythagoras, Ptolemy, Euclid, Heraclitus (who was a grumpy old philosopher. Michelangelo was the model. Because he was a grumpy old artist.), and a tonz maor people.
So yuh.
~Raphael~
Pretty much got along with everyone.
Well, except for Michelangelo, but nobody liked him and he didn't like anyone.
BUT.
~Raphael~
had a possy. A big possy.
A BIG POSSY.
LIKE, 50 POSSY.
So
~Raphael~
pretty much went everywhurr with the band of peeps he wuz wiff.
He even got along with Mr. P-to-da-ope-to-da-jerkface Julius.
He even painted him a picture~!
As in, the most realistic picture of a Mr. P-to-da-ope evarr.
HOWEVER,
~Raphael~
HAD...
SECRETS.
Once upon a time there was a Cardinal. Said cardinal preuttty much forced
~Raphael~
to get engaged with his niece. So
~Raphael~
agreed to it, but he kept putting off the marriage.
SO WHAI?
I dunno.
Maybe he was engaged to the baker's daughter. Maybe he didn't want to be tied down. Maybe he just didn't want to get married.
BUT I DUNNO.
But the real mystery lies in one of
~Raphael's~
picthurrz.
You see, he painted a.... special picture of the baker's daughter.
So hundreds of years after this /special painting/ was painted, some x-rays were performed.
AND VAT DID ZEY FIND?
On the hand of whats-her-face, a big ruby ring was found.
BUMBUMBUMM.
Was this an engagement ring? A wedding ring? Or what?
Well it certuhnlee wasn't a wedding ring.
WHY?
Because he died young.
IF I DIE YOUNG, BURY ME IN SATIN, LAY ME DOOOWN ON AAAH, BED OF ROOOSES~
oksorry. I've been like addicted to that song :x
BUT.
So he died at 37.
On his death bed, you know what he did?
He wrote his will, he repented of his sins, distributed all his wealth and shtuff, and died.
The end~ :D